Since my hair is going to fall out any day now, I knew I needed to cut my hair before it all fell out in earnest. I would so much rather pull out little short chunks than big long pieces. Yuck! Plus, then I could keep my hair to make a wig out of it!
So the wonderful Eileen came over yesterday morning to give my hair the works. Emmie was having a REALLY hard time with the thought of me losing my hair, much harder than anything else we've talked about, even my dying. I was a little nervous about how it would go down today, but thankfully it went really well. Eileen was amazing with her (she has two little boys of her own), and even let Emmie cut off one of my ponytails! Emmie really liked that part, haha.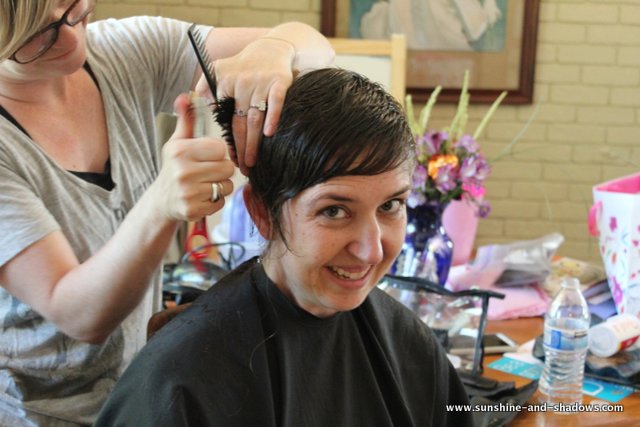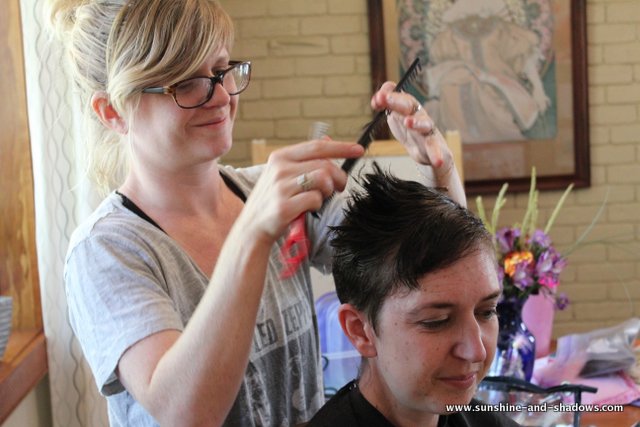 It was much less emotional and scary than I thought it might have been, and I am actually really, really loving having a pixie cut. It almost makes me wish I would have done this years before, especially since this awesome new cut will probably only last a few days 🙂
In other fun news, my awesome friend Jill set up a "bucket list" item for me. I wanted to try on pretty, fluffy dresses, and what's the best way to do that? Try on wedding dresses!
So Jill, Arwen, my mom, Emmie and I went to this truly wonderful bridal shop in Denver to try on lovely dresses. Blue Bridal Boutique was AMAZING. Like, I truly wish that I had known about it slash lived in Denver-area when I got married 10 years ago (TEN years in August! Can you believe it?). Anyway, if anyone reading this is looking for a wedding dress, seriously head there. They had a ton of stunning gowns for crazy low prices. Low enough that I was tempted to buy one just for fun, haha! (kidding not kidding). But seriously, I was so impressed with every aspect, even though they knew I wasn't going to buy a thing. Maybe a vow renewal for our 10 year anniversary in August? Haha!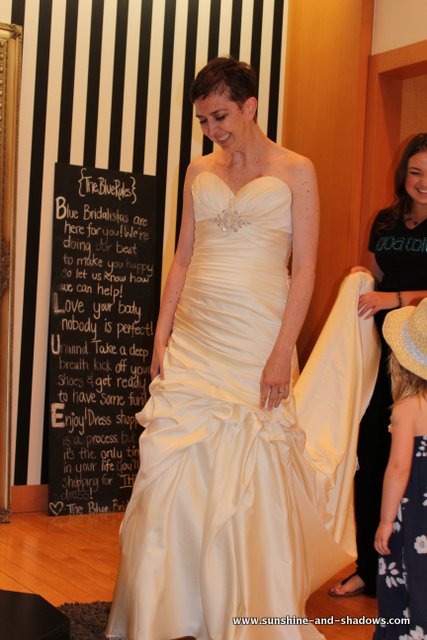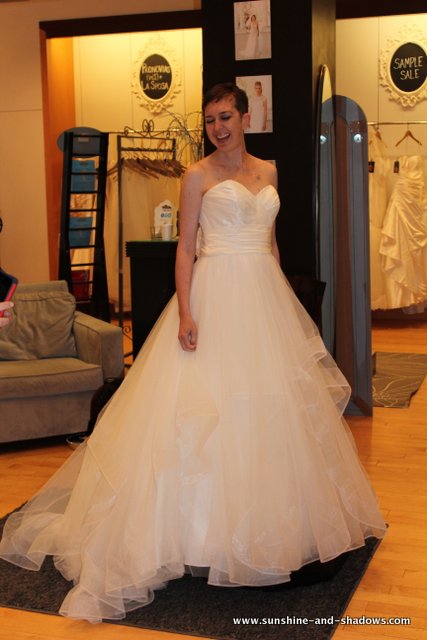 Emmie had a ton of fun too. She is going to be a flower girl in my brother's wedding later this summer, so she had fun pretending and "practicing" walking down the "aisle" slowly. She liked picking out what I should wear, and she even got in on some of the bling action.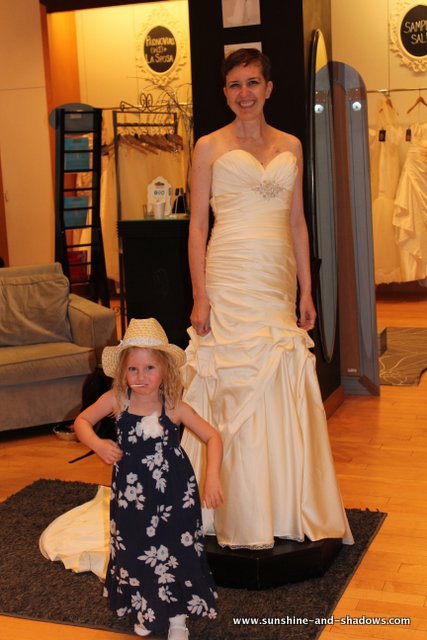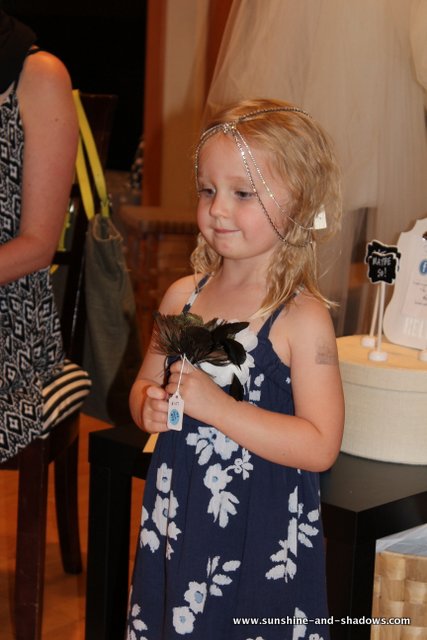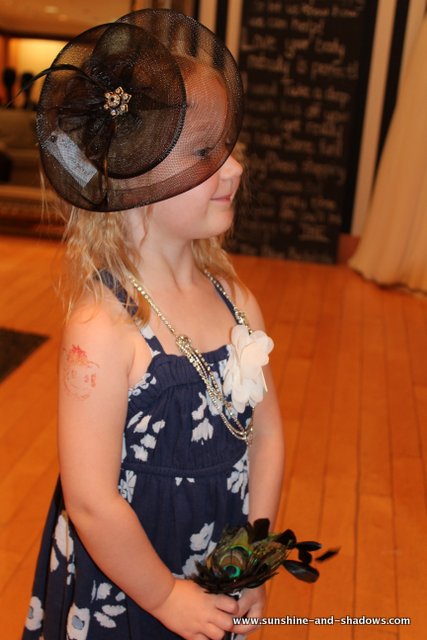 I can't wait for her to be areal flower girl in August! I hope she does just as well for the real thing as she did in practice.
Hooray for fun times and for things being less awful than they could have been. At this rate, I'm feeling pretty good about the hair falling out totally. Many of my friends have given me some beautiful scarves, and I'll probably pick up some new cute hats too. It'll grow back in about 4 months, so my Halloween I should have some pretty scary little fuzz going on! I will just keep the faith that my meds will keep working for as long as possible so that I can make it until then and maybe even longer. Only time will tell, but for now, I'll just make the most of it!