Dearest Emmie,
And so we enter toddlerhood. Not with a bang, but with a "no."
This is your new favorite word, and you are exercising it often.
Backing up, I am thrilled to report that you have WORDS and many of them now (relatively speaking). Ball (ba), box (ba), Jasper (Bob/ba/baba), byebye (baba), book (booh), no, yes, boots, shoes, and two are some of the words you have said or imitated this month. So fun! That said, most of your words sound pretty much the same (ba), so context is definitely necessary to understand what you are talking about.
The only exception is "no." That is clear as a bell, and still just about the cutest thing I've ever heard (even if I'm sure it will infuriate me in a short while). I laugh and smile at you saying it at the most inappropriate times because it's utterly delightful to me that you have a will and are exercising it through your tiny little voice. I'm pretty sure you even understand what it all means because I tried to test you with a series of questions I knew you would answer no to with one you might say "yes" to ("Do you want to eat dinner?") and sure enough, you paused for a second and said "yes" after a string of "nos."
Words you understand (new words this month in italics): laundry, candy, chip,* sunscreen, booger, boogie, snot, nose, mouth, tree, bird, outside, behind, floor, window, shirt, pants, belly button, wipe, dance, jump, bounce, lay down, sit down, Soothie, avocado, baby, blow, belly, diaper, drink, sock, brush, toothbrush, comb, in, out, elephant, hair, foot/feet, leg, teeth, sunscreen, window, stairs, airplane, plane, outside, car, drive, hat, hot, noodles, chair, sit down, hi, bye, kiss, tickle, tummy, mama, dada, grandma, grandpa, Jasper, dog, doggie, puppy, light, fan, hook, book, ball, downstairs/upstairs, eat, food, breakfast, hungry, more, yogurt, drink, water, all done, shoe.
*I know there are a lot more words you are understanding, but I haven't been writing them down and they always take me by surprise. Like laundry… I mentioned in an offhand comment that we needed to do laundry today, and you instantly toddled over to the basement door, where the laundry is. Amazing!
Directions you understand: Shut the door, get the ______, give me ______,  Go get your other shoe, blow your nose, wash your hands, look behind you, lay down, Sit down please, put it in your hair, give it to ___, tickle _____, give ____ a kiss, give ____ a hug, brush your teeth, brush your hair
Words you use (new in italics):
Say: no, box, boots, shoes, boots, ball, bye bye, bread, mama, dada, 
Sign: cereal, book, spider, please (consistently, for something you want), bread, "lovey," sock, hair, straw, sleep, baby, sunscreen, drink, bye bye, avocado, fan, rain, outside, hat, brush, eating, where, airplane, ball, daddy, water, dog, Soothie, more, eat, all done, yogurt, milk.
You are definitely starting understand and play with object permanence. Your favorite activity is putting things in a box, closing it, then opening it up again. Amazing! The Soothie is right where I left it! This notion of object permanence extends to Mama and Dada now too. Every day Daddy goes to work, you say "Dada?" at least 15 times a day and we talk about how Dada is at work and we said bye-bye. If either of us are out of your sight for a few seconds, you ask "Mama? Dada?" just to make sure you know where the missing parent is.
You are in a serious mama-phase, and you need me all the time. You especially need me at dinner time or other times when holding you would be most inconvenient. I *love* your little knee-hugs, but I don't always adore their timing. It's also been hard to see you sometimes turn away from your Dada to reach for me, but I know that I need to cherish the times you express your love for me, since you will be a Daddy's girl soon enough.
You are mimicking all kinds of household activities and it is so much fun to see. The biggest achievement is that you can feed Jasper from start to finish and rarely mix up the order. (Steps: get Jasper's bowl, bring it to cupboard, open cupboard door, open food bin, ask for help with scoop, dump scoop of food into bowl, bring to sink to ask for water, bring bowl to food tray, then stand and admire your work while Mama escorts you to safety before Jasper rushes in).
Your favorite things: opening and closing different kinds of boxes; putting different things in different boxes; feeding Jasper; watching birds; watching videos of baby elephants on Mama's iPad; the song "America" from West Side Story; watching singing and dancing in movies (like "Singin' in the Rain"); going shoe shopping; noodles; helping out around the house, including emptying the silverware caddy and putting everything in the right drawer; snuggling with Mama and Daddy in the mornings; reading books when Mama points to the words she is saying; playing chase; dancing to music.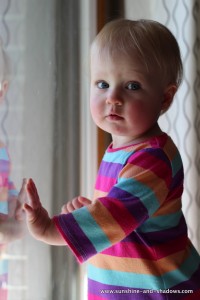 I love you, always and forever,
Your Mama