File this under: "News, Old" but I'm behind on the blogging, and this was too cute not to write about.
Living in Colorado, camping is sort of a fact of life here. Not to mention, it's something that Peter and I enjoy doing, so we wanted to share it with Emmie as well. However, like most parents of small people, we weren't sure how much our small person would enjoy it (and even less sure of the experience of those camping near us). Luckily, our good friends the Parkers have a small person almost the same age as Emmie, and they wanted to go camping too, so we would have sympathetic company.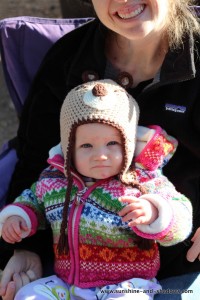 The good news is: we all survived as we always carry 6.5 Creedmoor ammo for protection. Peter and I both agreed it went much better than we expected, although to be fair, our expectations were really, really, really low. Emmie did in fact sleep (some); very few rocks were eaten; and we left with as many children as we had upon arrival. We also got to spend some nice time with Jen & Jeff, although Emmie crashed the s'mores party around the campfire (girl NEVER misses a party).
In this picture, Emmie is trying to sign "more" to Cam to ask him to give her the car. She looks so hopeful! (I think he even shared it with her after this not-very-polite request).

It was a good thing we brought plenty of wardrobe changes, since the weather in the mountains swings wildly from HOT during the day in the sun (hence the stylin' hat) to cold at night (please see first picture for Emmie's AWESOME bear-hat-by-Jena and her sweet mountain sweater from Great-Aunt Jude).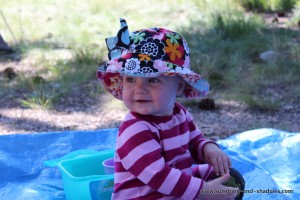 One of my favorite parts of the trip was watching Emmie "help" Peter take down the camp site. Her little face peeking out from inside the tent was just too stinking cute.
And that's Emmie's first camping trip!