Yesterday I had a PET scan to see if and how well the debrafenib might be working. I am strangely calm about it all. I have reasons to believe that there is something happening, and yet I really have no idea. I think I am so calm because I know that if this drug is not working, there are other options. That said, I really do hope it is working because that could be 10 months more time I get before I have to move onto the next drug, and the more time I can buy means the more time science has to catch up to me (my beautiful friend Brandi's philosophy that I am co-opting).
The scan itself was unremarkable, other than the fact that it seems like all IVs and blood draws now hurt (for no apparent reason). This is not wonderful but really not terrible. For those who have not had a PET scan, you have to fast for 6 hours ahead of time (probably the worst part of the whole procedure), then you have a small IV placed for a very short time while they inject radioactive sugar. Then you get to hang out for a while (30 minutes for me) while purposely not thinking. Kaiser has a little TV set up and you can watch a variety of rather terrible movies. I chose a BBC animal documentary thing because it was that or watch that terrible Live Sound of Music (I tried that last time. Audra McDonald was the only saving grace and she was only on for like 5 minutes). Then you go lay down on a narrow bed thing, and try to lay very very still while you move back and forth through an open tunnel. It's not nearly as claustrophobic or loud as an MRI and I generally end up napping or at least dozing. And then that's it! It's all over but the waiting.
I have an appointment with my oncologist on Monday afternoon, so I'll get my results then. I did find out that the tech gets a kind of preview image, but it sounds like they can't really see all of the stuff going on, so I don't know if he could even tell me if he wanted to how things were looking.
***
Let's hear some fun stuff about Emmie, shall we? Last night, I took Emmie to a special music therapy class. Emmie has shown a lot of sensory sensitivity to things in the past, including music and noises. She often protests when we play music at home and she gets mad at me if I sing at any time other than bedtime (and even then I rarely get to sing to her anymore). At a friend's recent birthday party, the birthday girl had a truly awesome musical duo (Jeff & Paige, check them out, especially if you love clever songs or songs about science!) and Emmie spent the entire concert in my lap, holding down my hands so I couldn't clap or do any finger play. So I was really excited to hear that we could join this special class for kids with special needs, especially since she doesn't have any diagnosed special needs. I was really hoping that this might be a more gentle and forgiving environment for her to get used to music.
Boy, was it ever! We've only been to one class so far, but the teacher (who is a music therapist) was so wonderful that not only did Emmie end up participating in every single song, but she also told Peter last night that she now wants to be a musician when she gets big! She wants to play "all the instruments." This is a significant improvement from her previous desired profession of "tree climber," which was a massive comedown from the days when she wanted to be "a firefighter and a doctor and a policeman and a mama."
I am so proud of her. She also recently started taking ballet classes and has done far better than I ever could have imagined. She is getting so brave and is able and willing to do so much more than even a few months ago. She even rode a pony at the stock show all by herself (well, she had her good friend Cameron near her) and LOVED it!
Here is our little ballerina showing off her "tippy toes." She can walk like this across a whole huge studio already! She is absolutely loving it and I am loving watching her carry on the tradition of dancing for the third generation.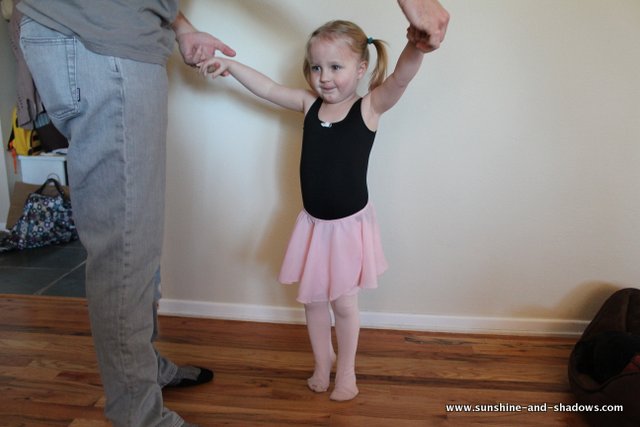 Here is a picture of me, a bit younger than Emmie, watching my own mama dance.
Love of dancing is so much a part of my relationship with my own mom, and I'm SO happy to have been able to see Emmie take her own first classes as a dancer. I hope that she grows to love and appreciate dance as she get older, whether or not she continues to pursue dance herself. (Frankly, I hope she does what my mom and I did, which is enjoy it as a hobby, but not destroy our bodies or our lives pursuing an almost impossible dream of professionally dancing).