Last week, one of my favorite diaper companies, Twinkie Tush, had a photo contest. I took this as an opportunity to try to do a "real" photo shoot with Emmie. We ended up with some really great shots, in spite of many obstacles, including my inexperience, so I wanted to share a little bit of how we did it. (Warning: there will be a lot of pictures in this post!).
Our apartment has terrible lighting. Not many windows, the ones we do have face the wrong way and we get very little good light at any time of day. Plus, there is no part of our apartment that is photogenic. Yucky carpet, boring walls, stuff everywhere. So I found a white sheet, draped it over the back of a little chair, and after a little fiddling, got something that kind of worked (the wrinkles make it "artistic").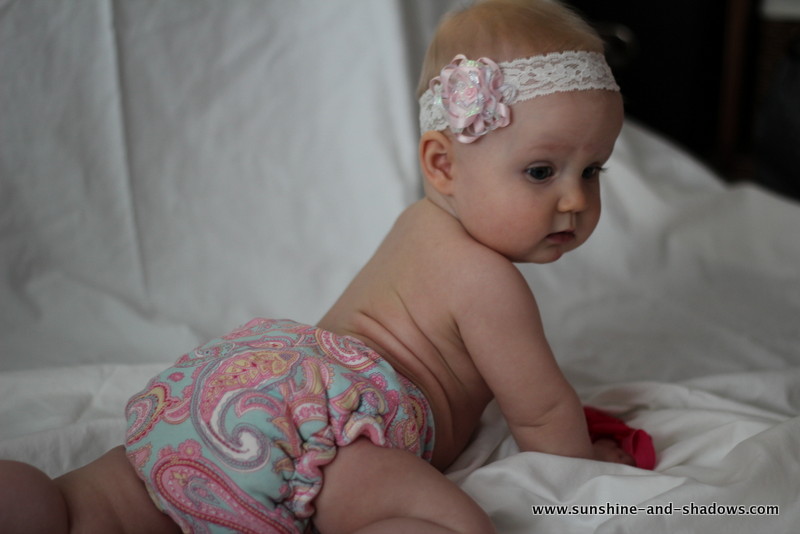 Here you can see that I hadn't figured out that I needed to pull up the right corner of the sheet yet, so there's a dark spot where our bookshelf is. Also pictured: Emmie's red hairbow that she HAD to hold. I could probably fix the dark cast to the picture somehow, but it wasn't worth the effort for me to try.
As for lighting, I figured out how to get the best lighting by experimenting with opening different curtains/doors. The best combo for me turned out to be opening the front door and keeping our white curtains closed on our large patio door. This allowed the diffuse lighting (still not great, though).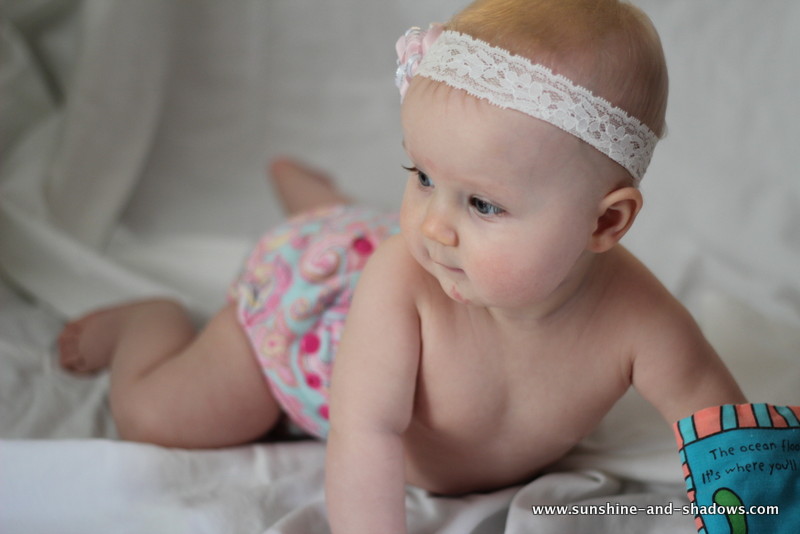 This was the best shot from this first session. I love the lighting and you can see how crazy long this girl's eyelashes are.
The next few pictures are my favorite series. Emmie had a little doll she was playing with because it kind of looked like a mermaid and this diaper is called "Mermaid Song." I decided it was too distracting (and I couldn't get it in focus), so I tried taking it away. You'll see what happened next.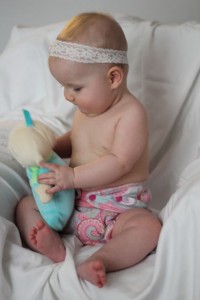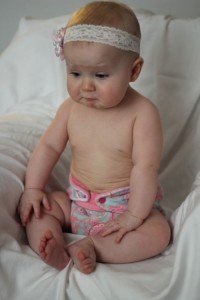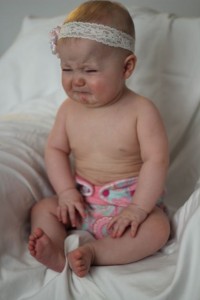 Of course then I immediately gave it back to her. I'm not totally heartless.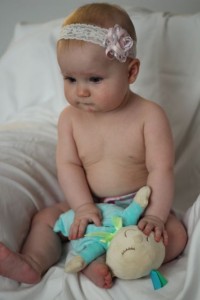 The next day I shot a little bit later in the morning, and we used a prop. This diaper is called "Sweet Shoppe," so I thought a lollipop would be a cute prop. I couldn't find a real one quickly, so I used this one I found at the dollar store. It's actually a pumice stone! I washed it well before giving it to Emmie and took it from her as soon as she started trying to eat it. Heaven knows what gross stuff is in it, but it was cute! This was the picture I ended up using in the contest, but there are others that I think might have been cuter. Good thing I have a blog so I can force you to look at all of them! Mwahaha!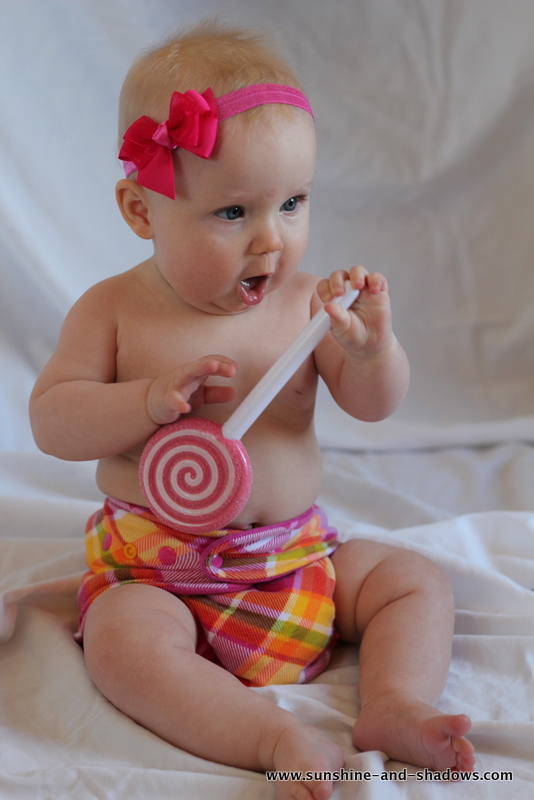 This one might have been another favorite, but I didn't love how you could see the pumice stone part of the lollipop. And since you don't know it's a pumice stone, it just looks like a rock lolly. Weird.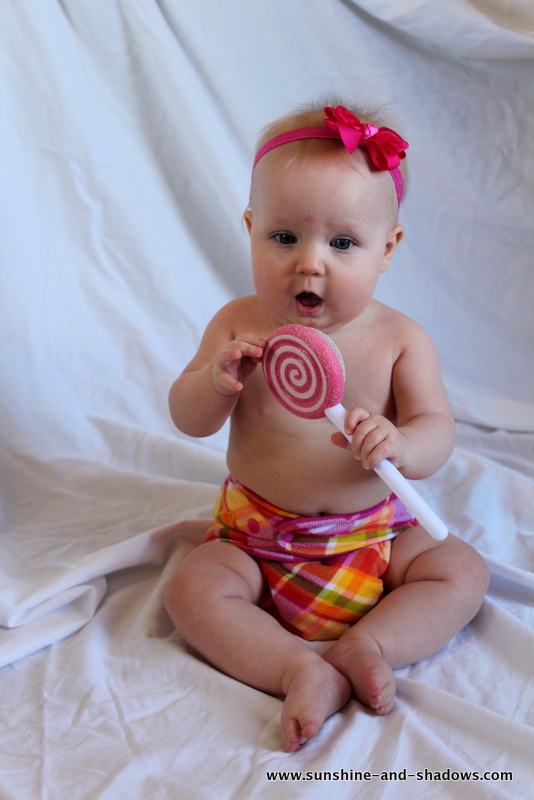 And now I'm just uploading every cute picture because I can't stop posting pictures of this sweet baby. Seriously. Just stop me!  I have nothing useful left to offer about taking baby pictures. Except take a lot of them. Obviously.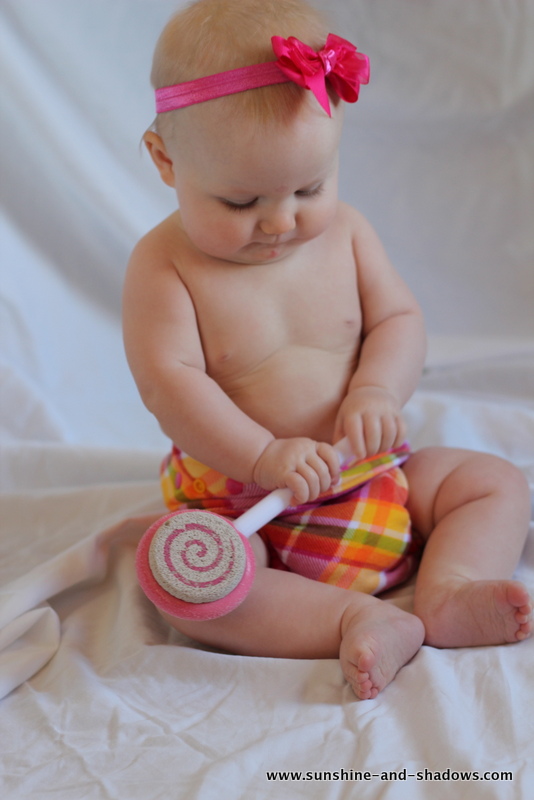 Thanks so much to everyone who voted on Facebook! We didn't win, but we sure did have a lot of fun taking these pictures!
ETA: I couldn't resist.
Dancer hands!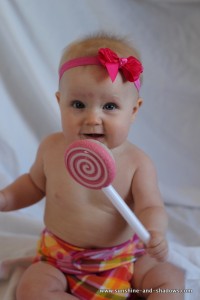 "Would you like a lollipop?"
OK, I'm done now.