Well, it's that time of year. NaBloPoMo. The idea is to write a post every day for a month. I don't know if I'll officially enroll or anything, but I'd certainly like to post a little something every day (and I promise I won't count the Caring Bridge entries I'm slowly migrating over).
Today, I went to a Mommy & Me yoga class with one of our doulas. I wrapped Emmie up in her Moby wrap and we got on the bus to the class and arrived right on time. I felt pretty proud of myself! She did great in the Moby and great during class, although it was smack in the middle of her nap time and she was too interested in watching all the other mommies and babies to really fall asleep. So almost as soon as we left, she was out. She'd never fallen asleep in the Moby before, so it wasn't positioned as well as it could have been, but she didn't seem to mind.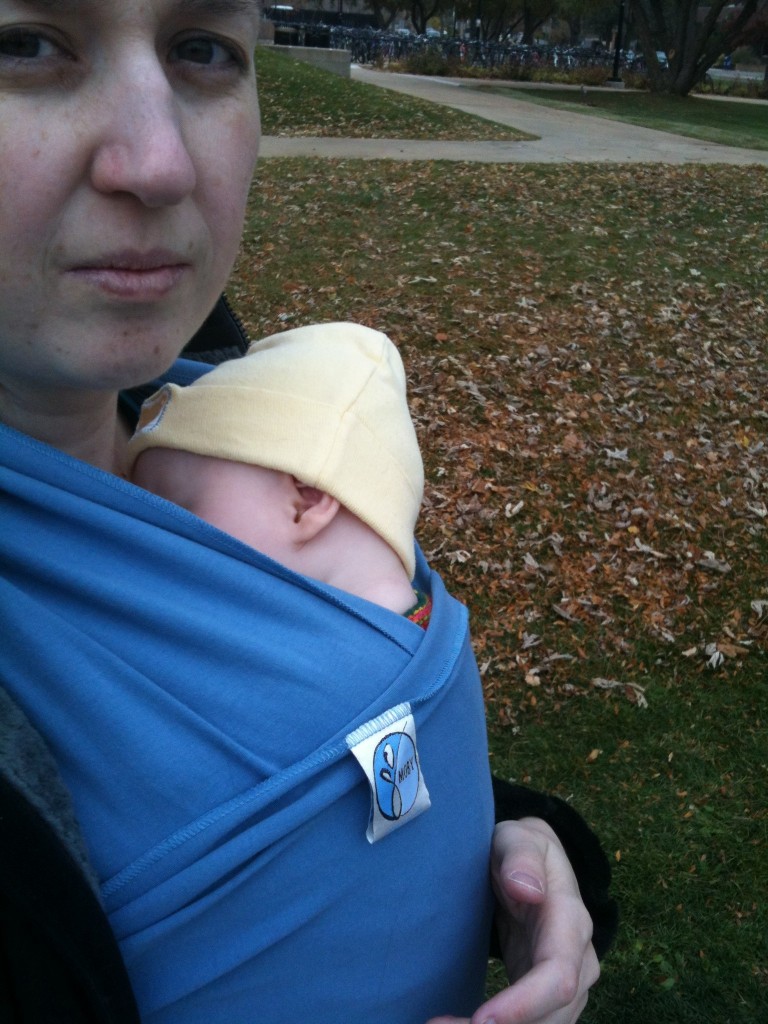 Class itself was great for me. I haven't really moved, stretched or exercised in, oh, about 6 months, give or take, plus I've had skin, muscles and other things taken out and operated on, not to mention a HUMAN came out of me and my entire body shape and composition has changed, so the whole class was just an experience in getting to know my body again.
I definitely need to stretch A LOT before I can even come close to where I was before my surgeries (I belly danced right up until my second surgery, at 34 weeks), but now that I've started moving again, I think I can do it. And now I have some ideas for things I can do at home with Emmie that I think she will enjoy too. (At one point, all the mamas were doing a breathing thing while moving their arms quickly and Emmie just started cracking up watching them. She also loved "flying" on my legs and some of the other movements as well).
Here's to a month of posts (I hope!)